5 Things You Must Know About Golf Cart Insurance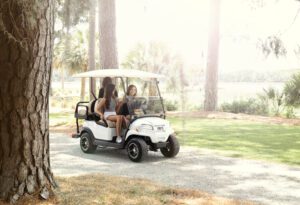 If you own a golf cart or a low-speed vehicle (LSV), you may have asked yourself whether you need insurance coverage. This blog post will discuss the value of insuring your golf cart, whether it's required, what coverage is available, and the difference between LSV (Street Legal) insurance and golf cart insurance.
1. Golf Cart Insurance Is Different Than "LSV" Insurance
Before we delve into insurance details, it's essential to understand the difference between a golf cart and an LSV. Simply put, an LSV is street-legal, and a golf cart is not. For more in-depth information on this, Click Here.
Golf Cart Insurance and LSV insurance are two different types of policies. To insure a street-legal golf cart, make sure that you specify with your insurance carrier that you intend to register your golf cart and get a license plate. You may need to specify that you need "LSV" insurance.
2. "Golf Cart" Insurance Is Not Required
Florida law does not require insurance for golf carts. However, if you own an LSV, you must have minimum liability coverage. Florida is a no-fault state, and the law requires at least $10,000 in personal injury protection and $10,000 in personal damage liability coverage for a registered motor vehicle - this includes LSVs.
Though golf cart insurance isn't legally mandated, it's usually not a bad idea. Not having coverage can potentially carry steep financial risks. For example, if you're uninsured in an accident involving your golf cart, you may be liable for an injured person's medical bills and any damages caused. This remains true even if you weren't driving the golf cart during the accident.
3. Not All Golf Cart Coverage Is The Same
Golf cart insurance provides numerous types of coverage similar to conventional car insurance. Here's a look at the common coverages you can typically get with golf cart insurance:
Property Damage Liability Insurance: Covers damage your golf cart causes to someone else's property, such as a neighbor's fence.
Bodily Injury Liability Insurance: Covers medical bills if you cause an accident with your golf cart and someone gets hurt. It also pays for your legal defense if you're sued because of the accident.
Collision Insurance: Covers repairs if your golf cart is damaged in an accident.
Comprehensive Insurance: Covers damages caused by problems like fire, flood, hail, or falling objects. This also includes coverage if your golf cart is stolen.
Medical Payments: Covers medical expenses if you or your passengers are hurt in a golf cart accident.
You can also add coverage for uninsured or underinsured motorists, personal injury protection (PIP), custom equipment, and roadside assistance. Many of these additional coverages may be available on LSV and golf cart policies. Check with your insurance agent if you want additional coverage on your policy.
4. The Cost of Golf Cart Insurance Can Vary
Golf cart insurance costs vary depending on various factors, including age, driving history, where you live, and the golf cart type. According to Progressive, a basic liability coverage policy can start at $75 a year. However, adding additional insurance like collision and comprehensive coverage, medical payments, uninsured motorist coverage, or accessory coverage will increase the cost. We recommend that you start by reaching out to your home and auto carriers for a quote.
So does that mean you can insure your street-legal golf cart for as low as $75 per year? Not quite. You should expect to pay an insurance premium in line with what you would pay to add another car to your policy. Effectively, you are insuring a car.
5. You Can Save Money on Golf Cart Insurance
Just like any other insurance, there are ways you can save money on golf cart insurance:
Bundling your golf cart and home or car insurance could qualify you for a discount.
Ask if you're eligible for any discounts.
Opting for payment options like paying for your policy in a lump sum can help save costs.
Final Thoughts
Whether on the fairways or cruising in your community, owning a golf cart is a great way to get around. However, protecting your investment and mitigating potential liability with a suitable insurance policy is essential. Therefore, it's worth restating that insurance is required to register your street-legal golf cart. That being said, even if you're not required to obtain golf cart insurance, it can provide valuable coverage in case of accidents, theft, or other unforeseen circumstances. By understanding your needs and exploring your options, you can find an insurance plan that provides peace of mind and lets you focus on enjoying your ride.